Monday, May 11, 2015:
- In a few days I'll be in Toronto for Anime North! I'll have an exhibitor's table and will be signing books and taking a limited number of commissions. Come by and say hi!
- Unfortunately, I won't have copies of the omnibus in time for the convention (it's still at the printing press), but it should be available via the TJ & Amal Store and via Iron Circus Comics in early to mid June!
- FAQ Page updated with omnibus and convention info.

Thursday, April 16, 2015:
- The collected edition is off to the printer! This is going to be a gorgeous book, and I'm so excited! Good news: if all goes as planned, I'll have copies available at Anime North next month.
- The last two pages of the comic have been updated for clarity and to reflect the content of the collected edition. This is the way I originally wanted to do the ending, but didn't have the time needed to do the final spread. Enjoy, and thanks again for your support!



Wednesday, April 1, 2015:
- Sorry I didn't have time to do anything elaborate this year ;_;
Here are the previous April Fool pages (warning: sound): 2014 - 2013 - 2012 - 2011
- Not a joke: Publisher's Weekly feature added under Press.

Tuesday, March 31, 2015:
- Thanks so much to everyone who made the Kickstarter a success! We're hoping to send the omnibus to press in mid-April.

Wednesday, March 18, 2015:
- Comics Alliance Interview added under "Press".

Tuesday, March 17, 2015:
- The TJ & Amal Omnibus Kickstarter has soared past goal! Hardcover editions are now available, and the paperback copies will be even higher quality than before. The pledge period lasts for another 8 days, so preorder your copy today!
- Interview with The Austin Chronicle added under "Press".
- If you prefer individual volumes, I've found a few more copies of Volume 2, so those are available again in the Store.

Tuesday, February 24, 2015:
- The Kickstarter is live! Click here to preorder the omnibus edition.

Monday, February 23, 2015:
- BIG NEWS! I'm super excited to announce that the Kickstarter for the Omnibus Edition of TJ & Amal will be going live shortly! I'll post the link here as soon as it's active.
- Also! I'll be exhibiting and doing a panel at Staple!Austin, the Independent Media Expo, Saturday and Sunday March 7 & 8, in Austin, Texas. Come by Table 61 in the Annex and say hi!
- Volume 2 has sold out! You can still purchase it via the Sparkler Online Shop, but I'm plumb out over here. (Well, I'm saving my last 6 copies to sell at Staple.)

Thursday, January 22, 2015:
- Pink Dollar Comics review added under Press.
- Thanks so much to everyone who came out to Ahn!con to say hello! My next convention is Staple!Austin the first weekend in March, and after that, Anime North in Toronto at the end of May.
- As for the news mentioned in the last post, here's a peek! The preorder Kickstarter should go live in a few weeks. I'll post all the info here when it's up and running!

Thursday, December 18, 2014:
- This January, I'll be a guest at Ahn!Con, the Midwest Yaoi Convention. If you're in the area and over 17, please stop by! I'll be signing books, doing panels, and will have some epilogue comic pages with me for y'all to peek at ;-)
- Some exciting news coming next month! That's all I'll say for now.

Thursday, December 4, 2014:
- Reminder: Webcomics Rampage is this weekend! The event runs noon to 7 PM and 9-11 PM on Saturday and Sunday. Hope to see you there!

Wednesday, November 26, 2014:
- From today until midnight December 1, everything in the TJ & Amal store is 20% off! Enter code WINTER2014 at checkout.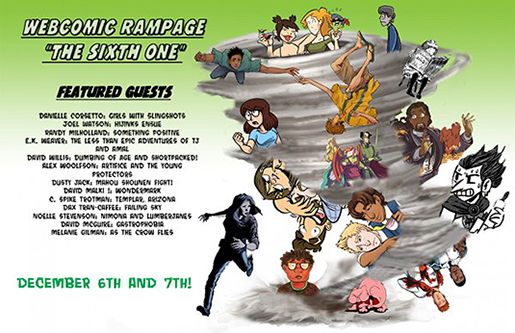 Webcomic Rampage 2014 is just around the corner! Join me and a dozen other webcomic artists (including Randy Milholland, Danielle Corsetto, David Willis, and more) at Dragon's Lair in Austin on December 6 and 7!

Thursday, October 30, 2014:
- Tomorrow is the last day to preorder the Mancalendar!

Wednesday, October 15, 2014:
- Today, October 15, is the last day to preorder the TJ and Amal fanbook! Get yours now!
- Signed copies of Volume 3 will be available again this weekend.
- The 2015 MANCALENDAR is open for preorder via Countershot Press! Amal is the January pinup guy.

Friday, October 3, 2014:
- Preorders are open for the TJ and Amal fanbook! Many thanks to Kori Handwerker and all the contributing artists for their hard work and love.
- Work on the side comic continues! More info and updates can be found under the "TJ and Amal" tag on my Tumblr.
- Signed books are available again in the Store.

Friday, September 19, 2014:
- This Saturday I'll be with the Dragon's Lair crew at Austin PRIDE, signing books and stuff! The festival runs 11-6, but I'll be there till 3 or so. Hope to see you there!
- Black Ship Books review added under Press.

Thursday, September 11, 2014:
- About/FAQ updated with 2014 + 2015 convention appearance info.
- Forgot to mention: I was a guest on the August 17 episode of the I Haven't Seen That podcast! Check it out, it's a fun time.

Tuesday, September 9, 2014:
- TJ & Amal Volume 1 is now available in French from MXM Bookmark!
- I'm working on another side comic! More information here.



© 2007-2010 E.K. Weaver/Big Big Truck Productions